CREATIVITY
We Are The Crazy, The misfits, The Ones Thinking Differently...
The most important thing about Graaho is a team that thinks differently. We are experienced in full life cycle development, deployment, management and maintenance of highly scalable software solutions. Most importantly, we ensures the highest ROI for our clients.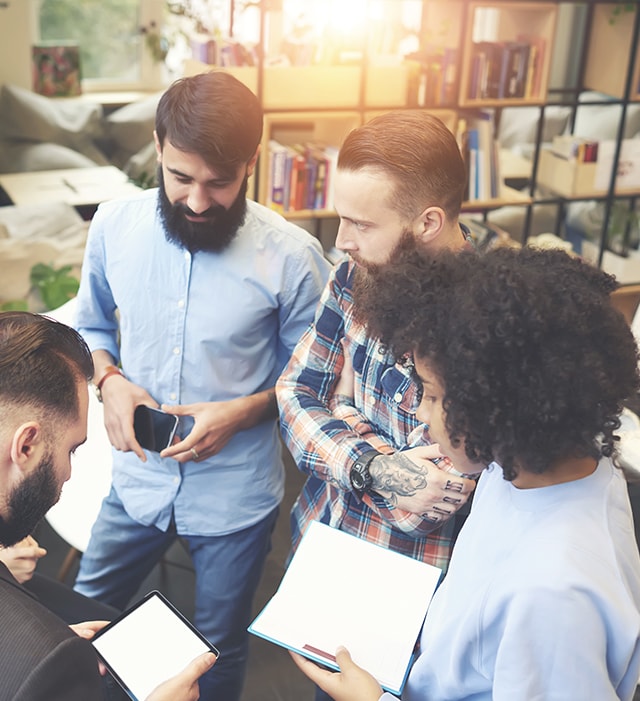 QUALITY
01.
Experience
Our teams are highly knowledgeable with a background in managing large-scale projects for global enterprises.
02.
Award Winning
Graaho's work has garnered praise around the globe. Our SmartGuess App received the BASIS National ICT Awards for AI in Agrotech.
03.
Client Centric
Our approach is client-first and customized to fit your specifications, project scale, and budget. We're committed to your satisfaction.
GLOBAL VIEW
We Are Oriented Globally
We are an emerging technology solutions provider based in the Washington D.C metro area. We serve private and public sector clients globally.

At GRAAHO, we deploy disciplined approach in design, analysis, project management and coding to deliver end-to-end scalable solutions to our global manufacturing, services, retail, financial and government sector clients.
Services
We Obsess About Quality!
We are single minded about delivering high quality work product. Over the years we have developed a number of systems and methods along with industry standard Quality Control (QC) processes that ensure our deliverables not only meet the objective but also are optimized for performance and free of defects.
ADD VALUE
GRAAHO offers everything you want in an offshore partner: top-notch technical skills; excellent language skills; and an entrepreneurial, Can-Do culture. Can't ask for more than that.
— Dwight Gibbs
CEO, Contraqer, Inc. USA
Graaho developed a powerful ecommerce solution for us that increased our productivity. From start to finish our experience with Graaho could not have been better.
— Bryan Chester
VP, Dell Tecnologies. USA
— Sal Abir
CEO, Renforce Ltd. Australia
We Focus On Creating Value
We believe we thrive when our customers thrive and our purpose is to create the maximum amount of value for our customers.
We Develop Innovative Solutions
We are an emerging technology services company equipped with experienced management, flexible pricing, and considerable tech knowledge to help you meet your most critical objectives.
Develop powerful solutions to move your business forward
We can help you develop innovative AI, Analytics, and Cloud based solutions